Well, this could be a long story if it was not a sad story. I'm writing this post just as yet another reminder to all of you and to myself as well. Never Give Money To Russia!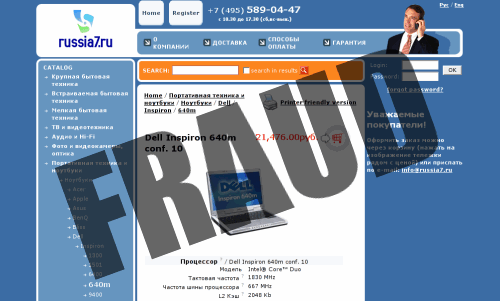 On the sunny morning (or was it a gloomy afternoon) of October 1st me and my wife have decided to buy new computer hardware to be even more mobile and prepared for work on the go — we thought we need new laptops (or notebooks as we say here in Russia). Before the day I've spend a week researching and comparing different brands and models, reading official reviews and learning from people in forums. My final choice was for Dell Inspiron 640m, 14" with high-resolution screen working at 1440x900. Good value for money, light enough to bring it with me in trips and comfortable for daily work with the spacy desktop. Besides, I knew Dell hardware is Linux-friendly so that was a good choice for our Windows-less family.
That day Russian popular search engine Yandex threw me few relevant links to different computer shops in Moscow having the Dell Insiron 640m in their online price lists. I grab telephone and started to call to these shops and found most of their price lists are out of date and required model is out of stock. One shop told me they have the laptop and can ship it to Svetlogorsk (where we live) with help of a well-known logistic company I'm confident in. The manager on the phone, named Ivan, was not sure about delivery price and instead offered me to pay them only price of the laptop and then pay shipping fee to the courier upon delivery. That is a common practice so I agreed. Since the Dell model appeared to be rare in Russia and on the other hand it was good for both me and my wife I asked if they have a couple in stock and they had. In five minutes I got a photocopy of the shop's invoice stamped with a blue stamp, and made immediate electronic transfer from my banking account to the shop. I got another confirmation from the manager thanking for prompt payment, he promised me to send a number of shipment order onto my email as soon as the purchased laptops are shipped so i could track the shipment. It never happened. The phone number mentioned on the web site is a cellphone with so-called "direct number" (it looks absolutely as land-line number and you'll never know you are cheated). Some robot woman reports me the phone is disconnected or out of reach. Bank recipient of my payment refuse to give any information about the company (though they confirm my payment was received the next day as it has been sent). I feel myself fucked up and have a hole in our home budget of size of Greenland.
Well, once again, for all of you and for me first — never buy from Russia! The shop's name is Russia7 and it's located at www.russia7.ru domain name. IT'S A FRAUD! Tell everyone, pass it on…